Attack of the 50-foot Oprah: Why America's most powerful celebrity should be more feared than loved
By: MARK JURKOWITZ/The Phoenix, Boston
2/9/2006 1:59:43 PM
To understand the depth, breadth, and reach of Oprah Winfrey's power, consider an incident more telling than her recent public flogging of wayward writer James Frey, who betrayed her coveted book-club endorsement by fabricating chunks of his memoir, A Million Little Pieces.
On December 1, Oprah — who like Gandhi, Elvis, and Liberace is known simply by one name — appeared on David Letterman's show, ending a 16-year hiatus that included her declaration that she was "completely uncomfortable" chatting with him. With Oprah deigning to end the much-hyped feud between them, Letterman — the late-night wiseass who was confident enough to seriously disrespect cable-news king Bill O'Reilly on a recent show — behaved like an awestruck schoolboy.
"It means a great deal to me, and I'm just very happy you're here .... You have meant something to the lives of people. We're just a TV show," Letterman gushed before escorting Oprah to the Broadway premiere of her play, The Color Purple. Commenting on Letterman's late-night kiss-up, Washington Post TV writer Lisa de Moraes observed that "Letterman had become that which he once mocked. An Opraholic."
Letterman is by no means the first one to realize that the road to success — or forgiveness — entails planting a kiss somewhere on Oprah's oft-fluctuating anatomy.
In the 2000 presidential campaign, George Bush made page one of the New York Times by going on Oprah's show, firmly bussing her cheek and waxing confessional about his old alcohol problem. After Oprah was offended by a 2005 incident in which she arrived after closing and was denied access to the Paris Hermès store, the CEO of Hermès USA felt the need to appear on the show and make amends by trashing his own employee. On January 11, when Oprah called CNN's Larry King to express support for Frey, King committed a major TV faux pas by letting the conversation spill over into the start of Anderson Cooper's 10 o'clock program. When King apologized, Cooper responded with "even my mom [who happens to be Gloria Vanderbilt] ... was happy that I got cut off. Are you kidding, for Oprah?"
"Oprah, by making a single phone call, can throw the entire CNN schedule to the wind," observes Robert Thompson, head of Syracuse's Center for the Study of Popular Television. "That's a powerful person."
The 52-year-old Oprah, who Forbes estimates has a net worth of $1.4 billion, has amassed almost unfathomable power and influence through a feel-good empire of confession, redemption, and self-help magnified through the multimedia megaphone that includes everything from her talk show and magazine to her film company. By touting anything, from books to bras, she can inspire mega-mass consumption and move markets.
One of her few public doubters, author and cultural critic Chris Lehmann, recalls the 2004 show when Oprah bought 276 Pontiacs for her studio audience (without telling them that they would owe up to $7000 in taxes). "At that moment," he says, "she could have given them an AK47 and told them to kill anyone." He attributes her incredible success to the idea that "she's cleared out this kind of therapist-priest space in the culture" and combined it with "a cult of personality."
And that's what's ultimately so scary about Oprah. She puts the "cult" in pop culture.
The power of O
Even though much of her appeal is rooted in what's been the highest-rated TV talk show for the past 19 years, Winfrey is more than just a television superstar. (Nielsen Media Research numbers indicate that each show averages about 9.3 million viewers, and it is currently the second-highest-rated syndicated program, behind Wheel of Fortune.)
Last year, Forbes.com listed her as number one atop its "Celebrity 100" power list, with Tiger Woods coming in second. The Internet portal About.com conducted a poll of most-admired entrepreneurs and, with more than half a million votes cast, Winfrey had swamped Bill Gates, 34 percent to 20 percent, with Donald Trump third at eight percent. There is even an organized effort under way, managed by a middle-aged Maryland public-relations consultant, to get Oprah a Nobel Peace Prize.
Yet, unlike other very powerful women (see Martha Stewart and Hillary Clinton) and unlike other media moguls with a message (see Ted Turner or Rupert Murdoch), Oprah has executed a singularly brilliant stroke: she has rendered herself largely immune to criticism or questioning — even from those made somewhat queasy by that power.
Syracuse's Thompson acknowledges that Oprah's "really got a grip on this culture. It is kind of frightening." But he also thinks it's good news that only a half century after segregation, an African-American woman could become such an important symbol.
Last May, noting that tickets to see Oprah on her "Live your Best Life" tour were being hawked for an obscene $715 a pop on the Internet, Washington Post columnist Eugene Robinson wrote a piece that started out worrying about the "Cult of Oprah," but ended up more or less believing in the "Church of Oprah."
"Oprah has become this incredibly powerful, in some ways magnetic figure in this culture," Robinson tells the Phoenix. "I think she's obviously just stone brilliant."
Like many charismatic figures, part of Winfrey's genius lies in her uncanny ability to parlay conversational talent into media stardom. Her kingdom includes: the signature talk show now broadcast in over 120 countries; her O magazine with a circulation of 2.6 million as well as a quarterly publication called O at Home; a film company that has cranked out a number of films including Beloved and Tuesdays with Morrie; the book club reported to be the world's largest, with a membership approaching one million; her Oprah.com Web site, which attracts more than three million monthly users; and her Oprah Winfrey philanthropic foundation, notably the charity Oprah's Angel Network.
It doesn't stop there. She has also had something of a career as an actress in The Color Purple, The Women of Brewster Place, and other productions, and she co-founded Oxygen Media, which operates a cable network for women. In 2002, her production company spun off another successful pseudo-psychology show starring her protégé Dr. Phil, which has become the second-most-watched TV talk show behind her program.
"You can't get beyond the fact that she's very unique in her ability to communicate," says J. Max Robins, editor in chief of Broadcasting & Cable magazine. "The glamour and the power that she has serves almost like a wish fulfillment for her audience.... She's magnetic in a way few performers are."
Thompson says Winfrey's clout conjures up several other TV icons, including newscaster Walter Cronkite, talk-show host Johnny Carson, and kiddie-show host Mister Rogers. But television historian Alex McNeil makes a more interesting point by comparing her to Arthur Godfrey, the folksy, affable (on camera, at least), and ubiquitous variety-show host of the '50s who had an uncanny ability to convince Americans to purchase the things that he endorsed — from cigarettes to appliances.
"When he personally pitched a product, you bought it," recalls McNeil. That's Oprah's calling card.
Like many cult-like leaders, Oprah has also skillfully seized on broader problems in society and smaller voids in people's lives. Asked to account for her influence, Celeste Gertsen, a clinical psychologist who specializes in self-esteem issues, says, "I think there's a lot of alienation, a lot of isolation. Families have broken down a lot. People are really lonely.... So it kind of opens up to her being a family member."
Marcia Nelson, a professional religion writer who penned the book The Gospel According to Oprah," says her fans are "looking for somebody to trust.... Her language has always been more or less laden with spirituality." For the record, both Gertsen and Nelson admire Oprah.
And like a number of powerful persuaders, Oprah skillfully and aggressively controls her public image and puts perceived perpetrators firmly in line, with the Hermès CEO's mea culpa a classic example.
After winning a legal battle against Texas cattlemen who sued her after a 1996 show in which she observed that mad-cow disease deterred her from eating another burger, Oprah, according to news reports, rejoiced that "Free speech not only lives, it rocks." (In another example of her commercial power, Oprah's hamburger denunciation helped depress cattle prices.) But Oprah was on the other side of the free-speech issue when she waged a successful legal battle against a former employee who was trying to overturn a confidentiality agreement that bars her employees from writing about Oprah's business or personal affairs for the rest of their lives.
The Frey fracas
Of course, one of Oprah's most dramatic efforts at spin was her January 26 public humiliation of James Frey, whose transgressions threatened her credibility in a way that few situations had.
"It was just a total self-preservation move," says William Bastone, editor of TheSmokingGun.com, which uncovered Frey's fakery. "Probably for one of the few times in her career, she struck a sour note."
As the Smoking Gun reported, thanks to the huge boost from Oprah's endorsement, A Million Little Pieces sold more books in the US last year than anything except the most recent Harry Potter offering. And after initially standing by Frey, Oprah, in a cold fury, stripped the bark off the hapless author sitting impassively next to her on the couch. Viewers winced at the spectacle.
"She was a sanctimonious bully," recalls Thompson. "She beat the living crap out of him," says Bastone. "I was saying 'throw in the towel, throw up the white flag."'
The next day, Frey's spanking made the front pages of newspapers with editorial philosophies as diverse as the New York Times and Boston Herald. But the sheer shrewdness of Oprah's handling of the situation was reflected in the fact that it was her punishment of Frey — rather than her own poor judgment — that became the story.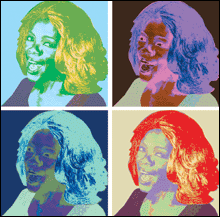 "I have no sympathy for James Frey ... but it did remind me of a show trial," says Lehmann. "At the very least in any rational literary culture, it would not only destroy James Frey's credibility, it should have destroyed hers."
But as one headline on an Associated Press story suggests, Oprah's real interest in ultimately demolishing Frey was to "protect" her "brand," and the mighty Oprah empire. And in a strange way, the whole ugly episode may have caused her legend and power to grow.
The Post's Eugene Robinson wrote a January 31 column marveling at "the wrathful, Old Testament Oprah" who gave Frey "that awful public smiting," and asserting that "if there were justice in the world, George W. Bush would have to give his State of the Union address from Oprah's couch."
That idea was seconded by syndicated cartoonist Mike Luckovich, who drew a caricature depicting a chagrined-looking Bush — who had just delivered his speech — and a disapproving Oprah sitting next to him on the couch uttering a loud "BULL!!!!"
The moral of the story: even the leader of the free world had best cower before Oprah.
---